20 Mar 2018 10:00AM UK time
LinkedIn Company Share is now working again, thank you for your patience while this was being resolved.
Search 4 Procurement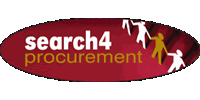 Contact details
Detail
The team behind search4procurement.com has over twenty years experience in the specialist field of procurement recruitment. We have one aim: to provide and constantly improve the most effective resource on the web for procurement people and those seeking to find them.
** Logic Melon Offer! **
As we are new to logic melon, we are offering a great one off deal – get your first 5 credits free when you sign up quoting 'Logic Melon' and begin uploading new procurement roles to our site using the Logic Melon software today!
Email us now on info@search4procurement.com and quote the above code to take advantage of this fantastic offer and start receiving specialist procurement candidates for your roles!