20 Mar 2018 10:00AM UK time
LinkedIn Company Share is now working again, thank you for your patience while this was being resolved.
Roles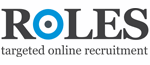 Contact details
Info
020 7426 4800
Detail
Roles provides a targeted, up to the minute and user friendly jobsite arena for both candidates and clients. Our sites are up-to-date with the latest marketplace developments to help suitable employers and jobseeker's successfully find each other.

Using Roles enables a targeted approach to finding candidates in sectors including:

Green
Energy
Engineering
IT
Recruitment
Smart Metering

Roles is owned by Roles Limited, the home of targeted online recruitment.

For general enquiries regarding Roles.co.uk please call 020 7426 4800.